Watch Our Dharma Roots Grow
Thanks to the kindness and boundless generosity of the SIMS sangha (community), we exceeded our fundraising goal! You raised over $175,000 to create a new spiritual home for SIMS.
We thank all the volunteers, the over 200 donors and guest teachers who helped us reach this fundraising goal for the remodel campaign. Thank you so much for everyone who contributed. Your generosity will make it possible for SIMS to continue to offer the Dharma for all who seek it, in a new space on the first floor of University Friends House. Our new home has many features. Whether you are near or far, you will be able to love the Dharma. Please learn more about the new space below.
We turn our efforts to transformation of the space and building a stronger more inclusive sangha. We need to do this together. Please join us! There are volunteer opportunities and more. Together we can connect, inspire spiritual practice, and make SIMS our spiritual home.
Construction in our new space is in full swing! The framing is mostly completed as is the electrical wiring. We're finishing details on our HVAC (heating, ventilation, air conditioning) system. In line with our values of caring for all beings and the earth we're having a heat pump powered by electricity designed and installed to replace the previous gas furnace.
To address concerns about the spread of infectious diseases such as Covid, the Design Task Force applied to a King County Environmental Health Services Division program that grants free portable HEPA-equipped air cleaners to public organizations within the County. We were approved and received five new air purifiers. They were delivered on Feb. 22nd. See photo below. These will help to ensure optimum air quality in our new space.
~Iris
member of the Design Task Force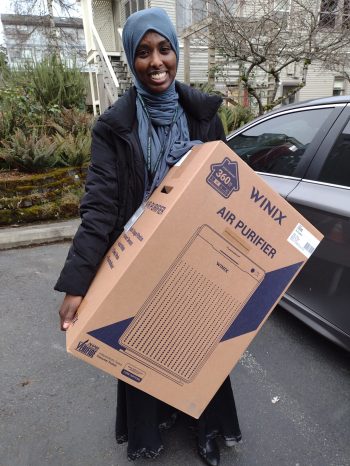 The framing for the remodel is due to start next week. The electrical and plumbing work which is planned to be done concurrently, will follow the framing and take about a month to complete. 
The Design Committee has continued to collaborate with our interior designer Liz Davis on wall paint colors and window coverings. We have been offered and accepted chairs for the entry space donated by a former sangha member which we think will be a wonderful addition.
We are looking forward to seeing progress in the next months towards the remodel that will offer us our own full time dedicated meditation space.
~Iris
member of the Design Task Force
Barbara E. and Deb S., two of our Design Task Force members, met with Liz Davis, our interior designer at our remodel space to discuss elements related to the desired feel of the environment. Liz was very positive about the decisions made so far and offered further comments and suggestions on wall paint colors, entry furnishings, kitchen cabinet materials and window coverings. We are excited to have this level of professional input to make our future space elegant, warm and calming.
We have received responses from several volunteers to help with design ideas, possible building of entryway furnishings and helping with set-up in the new space. Barbara E. has reached out to these generous folks and will coordinate their efforts once we reach that stage of the project.
We look forward to our contractors beginning the build out early in the New Year!
~Iris
member of the Design Task Force
The remodel project is moving ahead, but progress on actual construction has been slowed because of the availability of subcontractors and the need to work out specific design details. As subcontractors are being scheduled, the Design Task Force is moving forward with ideas and drawings to furnish the entryway area.

As we decide what to purchase, we are looking for  volunteers from our sangha who have handyperson skills to help us envision and assemble/build the furniture to create a welcoming environment. If you are interested in helping, please contact Iris at antwomaniris@gmail.com. Thank you.

~Iris
member of the Design Task Force
Demolition of our space is complete! Though rebuilding has not yet begun, LOTS of planning continues. We are very happy that Sally Knodell of Environmental Works Architecture has agreed to continue in the architectural role of liaison between us and our contractors. We have confidence that she, along with our interior designer and with input from the Design Task Force, can communicate with Dane DuBose and Malcolm MacNeil, our contractor team, in an efficient and constructive manner to create a beautiful new home for SIMS.
The Design Task Force has made decisions on some of the materials and we're getting close to agreeing on others. Big kudos to Deb S. and Barbara E. who have done the lion's share of researching materials, visiting showrooms, and bringing to the group detailed information on pricing, sustainability and other issues of concern.
Barbara who has a background in lighting design has helped us think about how to light the various spaces – what kinds of fixtures to use, where they should be, etc.
Our A/V superstars Cheryl M. and Ken Y. are working with Kalid A. to develop the most elegant wiring plan for a great hybrid A/V set up.
~Iris
member of the Design Task Force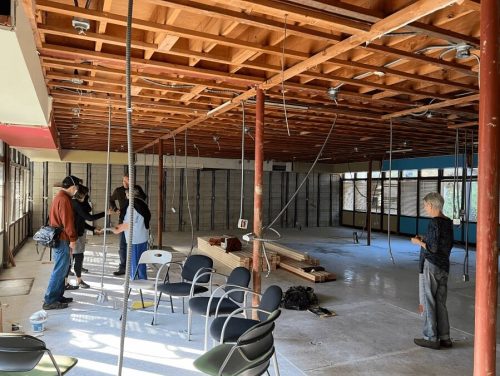 The demolition of our new space is complete! Dane and his partner Malcolm have been working with subcontractors on different aspects of the project including floors, walls, electrical plan, and a new HVAC system. SIMS has committed to converting the current heating system from gas to an electric heat pump, an environmentally friendly technology which both heats and cools (air conditions) the space.
The Design Task force is collecting samples of floor surfaces, cabinet materials, lighting fixtures and paint color samples. Here are pictures of the site taken on September 12 when several Design Task Force members met there in person.
~Iris
member of the Design Task Force
After almost two years of discussion, planning and fundraising, actual physical work has begun on the Remodel of our new sangha space on the first floor of UFM. Last week Dane DuBose, co-owner of MacNeil/DuBose LLC as well as a sangha member, signed our contract. Demolition of the space began today.
The Design Task Force has been meeting regularly for months using the drawings, ideas and suggestions from our architect and interior designer to think about materials for floors, cabinets, window coverings, and other elements of the project. And our AV/Communications Team is helping to figure out what we'll need to have good, reliable hybrid events.
We'll post monthly updates on this page and in our monthly announcement emails.
~Iris
member of the Design Task Force
Grow Our Dharma Roots Benefit Talks
The Grow Our Dharma Roots series is a special series of Dharma talks featuring five master meditation teachers including Rodney Smith, Sharon Salzberg, Ofosu Jones-Quartey, Narayan Liebenson, and Zoketsu Norman Fischer, who explore meditation as a gateway to transcendent awareness; caring in a troubled world; sangha and refuge; diversity and the intersection of Dharma and hip hop; and spirituality as relationship to self and the world.
Listen to sangha members speak briefly about the dharma in their own lives.​
Storyin60 bridges the spoken and written word to share our inspiration about the Dharma, celebrate our new spiritual home, and grow a strong, diverse Sangha. In an effort to build connection between individual sangha members, and share what inspires us to practice, we have created a platform to share the written and spoken word via short audio recordings and written reflections.
Why do you seek refuge in the Dharma? What has inspired your practice? 
Reflect on a first retreat experience, a powerful moment of awakening, a memorable quote from a teacher, a conversation with a sangha member, a Dharma high "moment," or other powerful yet small encounter with the Buddha, Dharma, or Sangha.
Keep SIMS Dharma Roots Growing Strong
Your Support is Dana. Dana is a Pali term for generosity, giving, or gift. Your gift, no matter how small, allows SIMS to fulfill its mission: to offer the Buddha's teachings on insight and compassion to all those who seek them and to support a spiritual community centered in the Pacific Northwest.
Better than a thousand meaningless statements
Is one meaningful word,
Which, having been heard,
Brings peace
~Dhammapada 100
With Deep Gratitude,
SIMS Board and Guiding Teachers
If you would prefer,  you can mail us a check to the address below. Please indicate on your check the intention to donate to the UFM Remodel.
Seattle Insight Meditation Society
ATTN. Grow Our Dharma Roots Fund
4001 9th Avenue NE
Seattle, WA 98105
Your donations may be tax deductible as SIMS is a registered 501(c)(3).
What are funds being used for?
Funds will be used to create our own dedicated spiritual space for 75 participants, available to us 24/7. We will have a permanent AV system to allow for live-streaming of SIMS events, as well as offer "hybrid" events—both in person and virtual. There will be a separate entrance to the building with a small courtyard garden. An HVAC system will provide healthy air flow, cooling and heating. Our vision is to include a lobby and tea service area, small kitchen, small library space, and upgrades to the bathrooms. SIMS has a 10-year lease on the space at University Friends Meeting.
The City of Seattle has given the remodel project the go ahead to apply for a construction permit. Permitting questions had been centered around fire safety compliance. Project architect, Sally Knodell of Environmental Works (EW), supported by a code compliance consultant at Code Unlimited, had assisted in these negotiations. The project architect and interior designer, Liz Davis of ECD Design, are working with a core group of SIMS volunteers, led by former President Rob Long and current Board member Kalid Azad, to create the details of our vision for the space. Former Board president Barbara Erwine, is working to put together a package of ideas that reflect the need for the space to be functional as well as spiritual.
Our expected timeline for construction and completion:
Submit Construction Permit – January 2022
Permit approval – March/April 2022
Select Contractor – March/April 2022
Start Construction – February 2023
Construction Ongoing – February through May 2023
Finish Construction – May 2023
Move in – June 2023
How can I stay informed of the progress of the remodel?
We will be providing updates in our monthly newsletter.

How soon will SIMS be able to move into its new space?
While this is a moving target, construction could be finished by Summer 2023. Plans to move in could be realized shortly thereafter.
How easy is it to get to SIMS?
The property has easy access to transit and light rail. The new U-District light rail station is about a 10 minute walk away, and the area is served by numerous bus routes including a stop right across the street. UFM has 21 existing onsite parking spaces which includes 1 marked handicap accessible space. There is another accessible parking space on the street immediately in front of the building (adjacent to the sidewalk).

What are the design elements?
Please see the architect's drawing of the space below.

Where can I read about the plan and see more photos?
Please see the link below to view the remodel site plan PDF.
Architect's proposed floor plan