About the Seattle Insight Meditation Center at Friends Meeting House
We meet in the University District at the University Friends Meeting House. UFM is located at 4001 9th Ave NE in Seattle, just off I-5 and adjacent to the Burke-Gilman Trail. The Meeting House is a spacious building with two large gathering rooms, the Worship Hall and Social Hall (with an adjacent large kitchen). The Worship Hall will be a welcoming new home for our regular weekly sits and classes. The Social Hall can host our day-longs and other events that will benefit from having access to the kitchen space. The whole building wraps around a calm landscaped interior courtyard and all rooms have large windows that look out onto beautiful landscaping.
Seattle Insight Meditation (SIMS) meets at a variety of locations throughout the Puget Sound Area. Our office and many of our events, including our weekly Monday night dharma talk and sit are held at University Friends Meeting House from 7:00 – 9:00 pm. Directions to this location are noted below. For other events, including our weekly Sunday morning dharma talk and sit, Under 40 Sit, evening talks and non-residential retreats, please see the locations shown on our calendar links or Venue Map.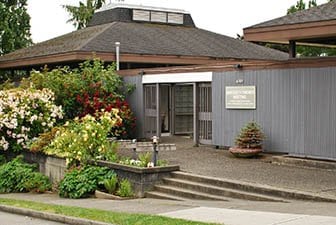 Location: 4001 9th Avenue NE, Seattle, WA, 98105
Mailing Address: 4001 9th Avenue NE, Seattle, WA, 98105
Parking and Transportation
The facility has 21 onsite parking places and good access to public transit (Bus routes 31, 32, 49 and 70). There is street parking available nearby and also UW pay lots open to the public for $3/hr.
When a SIMS event is anticipated to exceed the onsite parking available, please consider giving priority for onsite spaces to those who have limited mobility.
We know Seattle traffic and parking around the center may be burdensome. We are fortunate, however, that SIMS is within walking distance of the University District light rail station just like our old space before May 2019 was within walking distance of the SODO station.