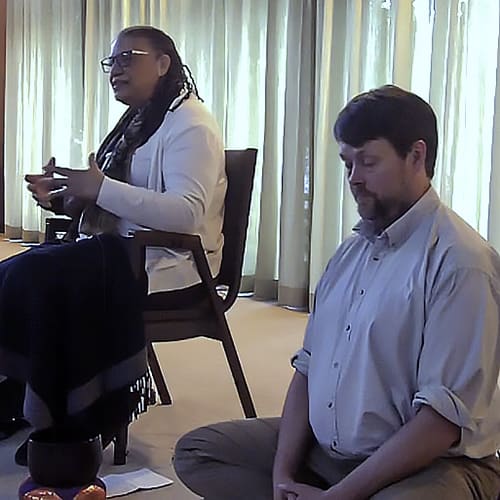 Refuges and Precepts Ceremony (In-Person & Online)
January 9 @ 7:00 pm
-
9:00 pm
PST
Every January, as a sangha, we chant the precepts and the Three Jewels—The Buddha, the Dhamma and the Sangha. This year, during our ceremony on January 9, 2023, we'll give all sangha members an opportunity to share their own words of appreciation and gratitude for our Guiding Teachers, Tim Geil and Tuere Sala.
There are two ways to offer your words of appreciation. In person on January 9, 2023, we will have forms to fill out and there will be opportunities to share your words in person and over zoom. In addition, you can submit your written messages to Cubba.reese@seattleinsight.org. We will read some of these submitted messages during the evening. We encourage you to make your statements of appreciation brief. All sharings may be either signed or anonymous.
Special Note about hybrid Zoom/In-Person meeting
Monday Night Dharma Talk and Meditation is meeting as a hybrid –  In-Person & Online.   You are invited to come In-Person or everyone is also welcome to join via Zoom software. Current event status and links are on the Online Events page.
If you are attending in-person and arriving late, please be aware that for safety purposes the entry doors will be closed and locked for the evening at 7:15 P.M. 
COVID Policy for In-Person meetings
Vaccinations: Highly Recommended but we will not be verifying immunization status.
Masks: Optional. We ask everyone to respect each person's decision to wear or not wear a mask.
The board is following current Washington State and King County recommendations. We will adjust as needed in the future.
Questions?
If you have questions about this event, please contact webmaster@seattleinsight.org
Dana for SIMS and the Teachers can be offered online at https://seattleinsight.org/donate, or In-Person on Monday nights.
The Monday evening ongoing class at SIMS starts with a meditation and is followed by a dharma talk. The evening is open to anyone who has had introductory meditation instruction from a qualified instructor. Dharma talks are often presented in series.
Registration & Donation
Registration is not needed for this class. The suggested event donation is $5, plus teacher dana. (Dana is a term for generosity, or freely offered giving.) Teacher dana can be offered at the event or online. Please use your best efforts to pay the suggested donation or another heartfelt amount. All are welcome regardless of ability to pay.