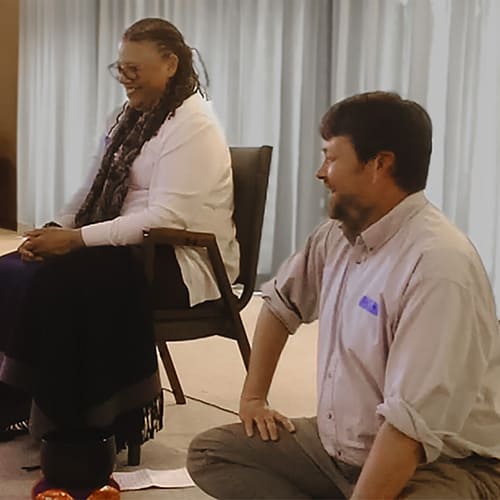 Annual Forgiveness Ceremony (ONLINE ONLY)
September 13 @ 7:00 pm
-
9:00 pm
PDT
Join us during our Monday Night Dharma for our Annual Forgiveness Ceremony on September 13. Please be aware that even though this is on Monday night, we will be holding it only online. Normal Monday night hybrid meetings will resume next week on Sept. 20.
Annual Forgiveness Ceremony
With everything going on in the world right now, coming together to practice forgiveness can be a powerful refuge.  Spiritual forgiveness is a necessary part of beginning again.  It is the foundation for renewing our faith and realigning us with our values/practice.  In addition, ceremony restores our soul.  It provides the space to include everything on the path.  In this context, there is no better time to hold a forgiveness ceremony than right now. 
On September 13, 2021, Tim and Tuere will be offering their annual forgiveness ceremony.  Please join us as we connect with one another through the Dharma, bowing and chanting.  The ceremony will be online again this year so that we all feel comfortable participating in the bowing and chanting from the safety of our individual homes.
If you have questions about this event, please contact 
[email protected]
Dana for SIMS and the Teachers can be offered online at https://seattleinsight.org/Donate, or in person on Monday nights.
The Monday evening ongoing class at SIMS starts with a meditation and is followed by a dharma talk. The evening is open to anyone who has had introductory meditation instruction from a qualified instructor. Dharma talks are often presented in series.
REGISTRATION & DONATION
Registration is not needed for this class. The suggested event donation is $5, plus teacher dana. (Dana is a term for generosity, or freely offered giving.) Teacher dana can be offered at the event. Please use your best efforts to pay the suggested donation or another heartfelt amount. All are welcome regardless of ability to pay.