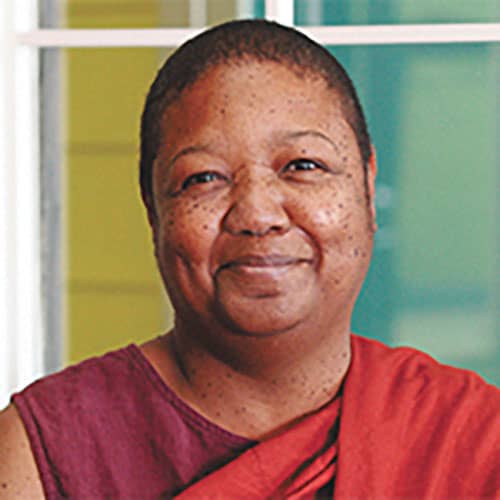 Evening Meditation Talk and Benefit with Venerable Pannavati (Online)
November 19 @ 4:00 pm
-
5:30 pm
PST
"The qualities that begin to arise as a result of practice are what take us to the path of hearing the cries of others and having the courage and desire to respond. You come to realize that when you're serving others, you are in fact serving yourself."- Ven. Dr. Pannavati
Welcome Ven. Dr. Pannavati for an on-line fundraising event to create a new spiritual space for SIMS! Venerable Pannavati has graciously offered all Dana be given to the Grow Our Dharma Roots fund. Donate and learn more about the SIMS Remodel Project at UFM HERE.
It was in 2019 that the SIMS Sangha first experienced the sheer joy and wonder of Venerable's presence, wisdom and compassion, as the Suttas were brought to life in a down to earth, yet rapturous manner sprinkled with song and sermon!
Venerable Dr. Pannavati's Bio
Ven. Dr. Pannavati, a former Christian pastor, is co-founder and co-Abbot of Embracing-Simplicity Hermitage and meditation center; Co-Director of Heartwood Refuge and President of the Treasure Human Life Foundation. A black, female Buddhist monk ordained in the Theravada, Chan, and Mahayana traditions with Vajrayana empowerments and transmission from Roshi Bernie Glassman of Zen Peacemakers, she is both contemplative and empowered for compassionate service.
An international teacher, she advocates on behalf of dis-empowered women and youth globally, and insists on equality and respect in Buddhist life for both female monastics and lay sangha. She was a 2008 recipient of the Outstanding Buddhist Women's Award and currently serves as the Vice President of the US Chapter of the Global Buddhist Association. She has received many awards for her humanitarian work over the years. You can read more here.
Grow Our Dharma Roots
University Friends has offered SIMS a 10-year, full-time lease in the first story of their building. Funds are needed to remodel the space to include a dedicated spiritual hall for 75 participants, available to us 24/7, a permanent AV system to allow for live-streaming of SIMS events, as well as offer "hybrid" events—both in person and online. 
Registration and Donation
Registration for this Online Talk is required. The suggested event donation is $10.
No one will be turned away due to lack of funds. Dana is a term for generosity, or freely offered giving.
We are grateful for the kindness of a generous donor who has agreed to match the registration and donations from this event, dollar for dollar. Your generosity will be doubled so please give what you can!
A zoom link will be sent to all those who have registered.
Thank you for your generosity!
Questions
If you have a question for the teacher or about this event, please send it to [email protected].