SIMS Grow Our Dharma Roots Fund
Help SIMS Create Our New Spiritual Home
$174,245
of
$150,000
raised
Tell 10 Friends About the "Grow Our Dharma Roots" Fundraiser!
Download a template to send below:
Help Sustain the Dharma for Future Generations!
University Friends has offered us a 10 year full-time lease in the first story of their building. The final design is underway and will be featured in future emails. Your donation allows us to realize:
Our own dedicated spiritual space for 75 participants, available to us 24/7
A permanent AV system to allow for live-streaming of SIMS events, as well as offer "hybrid" events—both in person and virtual.
A separate entrance, lobby and tea service area
A small courtyard garden for reflection
Desirable: A new HVAC system to ensure healthy air and a small kitchen (access to UFM social area will continue)
Your support is Dana.  It is what allows SIMS to carry out the Buddha's teachings to all who seek it. Take this moment to reflect on what the Dharma means to you. Please be as generous as you are able. Your donations may be tax deductible as SIMS is a registered 501(c)(3).
Sooz Appel, Local Dharma Leader, speaks to how the Dharma has been priceless through her journey of loss and joy and, why giving Dana, no matter the amount, is needed to create a new spiritual home for SIMS. (2021 July 10 Daylong and Benefit with Rodney Smith)
Share your Storyin60!
Listen to sangha members speak briefly about the dharma in their own lives.
Storyin60 bridges the spoken and written word to share our inspiration about the Dharma, celebrate our new spiritual home, and grow a strong, diverse Sangha. In an effort to build connection between individual sangha members, and share what inspires us to practice, we have created a platform to share the written and spoken word via short audio recordings and written reflections.
Why do you seek refuge in the Dharma? What has inspired your practice?
Reflect on a first retreat experience, a powerful moment of awakening, a memorable quote from a teacher, a conversation with a sangha member, a Dharma high "moment," or other powerful yet small encounter with the Buddha, Dharma, or Sangha.
Grow Our Dharma Roots Benefit Talks
The Grow Our Dharma Roots series is a special series of Dharma talks featuring five master meditation teachers including Rodney Smith, Sharon Salzberg, Ofosu Jones-Quartey, Narayan Liebenson, and Zoketsu Norman Fischer, who explore meditation as a gateway to transcendent awareness; caring in a troubled world; sangha and refuge; diversity and the intersection of Dharma and hip hop; and spirituality as relationship to self and the world.
More Ways to Donate
If you would prefer,  you can mail us a check to the address below. Please indicate on your check the intention to donate to the UFM Remodel. 
Seattle Insight Meditation Society
ATTN. Grow Our Dharma Roots Fund
4001 9th Avenue NE
Seattle, WA 98105
Get involved in the Fundraising activities! Email us to learn how you can help.
Your Dana will allow for SIMS to more fully fulfill its mission: to offer the Buddha's teachings on insight and awareness to all those who seek them and to support a spiritual community centered in the Pacific Northwest.
Thank you for your ongoing support.
Better than a thousand meaningless statements
Is one meaningful word,
Which, having been heard,
Brings peace
~Dhammapada 100 
With Deep Gratitude,
SIMS Board and Guiding Teachers
Several months ago UFM informed us that the former tenant of the space immediately below the Main Worship Hall, Operation Nightwatch, was moving out on their own accord. UFM offered SIMS an opportunity to lease the space before putting it on the open market as we are a current tenant.
Since then, the Board has been considering the feasibility of signing a long-term lease for the space and renovating it to meet our needs. While used most recently as a Men's Shelter, it is configured as 'office space' and would need extensive renovation for our use. Our assessments concluded that the space would meet our needs from a functional standpoint and that there were no major permitting or other obstacles blocking us from developing the space as a meditation hall.
We recently negotiated a 10-yr lease with UFM and have engaged an architect to help us get through the permitting and design processes to the point where we can start construction.
Our fundraising effort will go for the permitting, design, and construction of the new space as a spiritual home for SIMS for the next decade and beyond. 
If you'd like to be part of the Visioning Committee and/or have ideas you would like to share, please visit  our SIMS Visioning Ideas page to learn more!
Expected Project Costs & Fundraising Goal
We don't yet have firm cost estimates but believe the project will cost between $175k and $250k including design and construction. We're working towards refining these estimates.
We humbly ask for your help in raising about 50% of these costs through a fundraising drive. The remaining costs will come from our reserves. This will leave SIMS in a strong financial position with several years of operating expenses remaining in our reserves. We feel it is important to safeguard the financial stability of SIMS and retain a cushion for unanticipated events (similar to a rainy day fund).

What will our Space Look Like?
The design is not complete and questions remain about the look and feel of the space. But we have some general ideas. See below for a current Architect's schematic of the space layout.
In summary the project includes:
Architect's proposed floor plan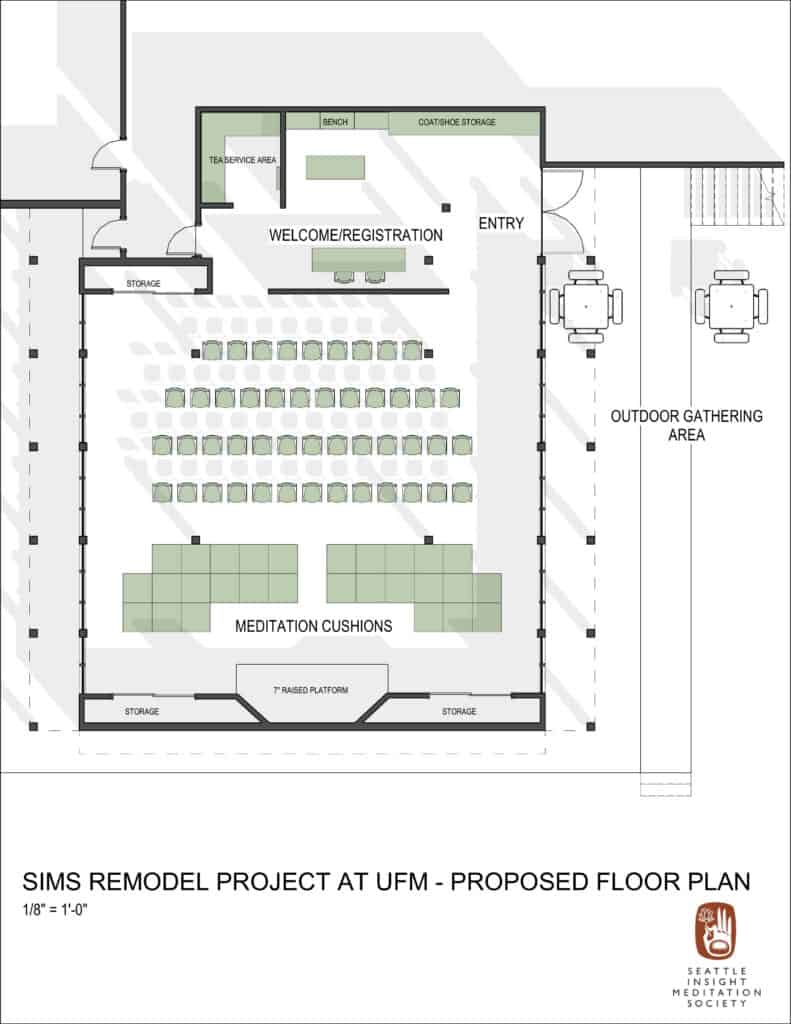 Several years ago while we were still in the SODO space, SIMS undertook an effort to assess what sort of space the SIMS community wanted to have as its home. The results of that assessment are here and were based on responses from 143 participants: Pre-Design Task Force Report and Recommendations.pdf.
Please read the report for more details. The Board believes that this proposed Project meets most, if not all, of the assessment's key identified needs quite well and is consistent with the key recommendations of the assessment.
Key Recommendations of the Report
Why do we think this is good for SIMS?
We're very excited and positive about this opportunity for SIMS to have its own spiritual home once again. A full-time location will create a compelling identity for SIMS, promote its long-term stability, and help us grow and flourish. A few specific points include:
The schedule is not yet certain and we are still engaged with the City on pre-permitting discussions. We're hoping to be finished and in our new space sometime in mid-2022.